Douglas Park Law proudly sponsored the Atlanta Mobile Awards again this year. The Atlanta Mobile Awards brings together leaders on the forefront of mobile technology. Developed by the Atlanta Mobile Marketing Organization (AMMO), the Atlanta Mobile Awards "brings brands and technology companies of all sizes together to celebrate the best in mobile marketing, products and experiences.
This summer, Nerd Wallet Inc. named Atlanta the "Most Mobile Friendly City in the US." AMMO's mission is to bring overdue national recognition for Atlanta as one of the top cities in the world for mobile mobile development and mobile marketing.
This year, the panel of judges included Joseph DeCarlo, Principal Architect at Turner, Tom Daly, group director global connections for The Coca-Cola Company, Aviral "A.K." Singh, brand building leader for Georgia Pacific, Jennifer Bonnett, general manager of ATDC and mobile gaming expert Marcus Matthews.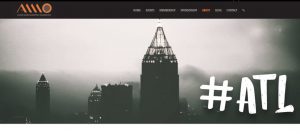 More than fifty Atlanta companies completed submissions to compete in the following categories:
Best Mobile Start-up
Atlanta Only "BIG ATL"
Best use of Augmented or Virtual Reality
Best use of Mobile for Enterprise or Business to Business
Best in Public Service / Non-profit
Best in Gaming or Gamification
People's Choice
Best IOT / Wearable / Hardware
The Best Mobile Startup award was presented to Roadie, a mobile app from Big Nerd Ranch. The award recognizes any company with offices in the Atlanta area that either began operations or published their first venture into mobile in the last 3 years. Roadie solves basic shipping problems – too expensive, inconvenience of getting to the post office and difficulty sending bulky items. Roadie takes advantage of 250 million passenger vehicles and their billion square feet of unused cargo space. As the first "on the way" shipping network, Roadie connects people who have items to send with drivers already heading in the right direction. By tapping into unused space in passenger vehicles already on the road, Roadie creates a community that gives businesses and consumers a more cost-efficient, faster, and greener shipping option. This network provides a more flexible shipping alternative, especially for large and out-of-the-box items as well as items that need same-day arrival. Roadie founder Marc Gorlin envisioned an app that would disrupt the $90 billion shipping industry, so he worked with Big Nerd Ranch to make this a reality with iOS and Android apps.
The Big ATL/Atl Only award was presented to Food Finder Georgia, developed by stable|kernel. This award honors any mobile company, app, technology or platform serving primarily in the Atlanta area. Food Finder is a free web and mobile app that connects more than 650,000 food insecure children in Georgia to free food resources. Food Finder Georgia began with an idea from 15-year-old Jack Griffin, who saw an episode of 60 Minutes that described the unimaginable struggles of a family with two children dealing with piles of medical bills from their late mother. The two kids and their father lived in their truck, uncertain of where their next meal might come from. Jack was moved to action after watching the 60 Minutes segment and sought to volunteer with various organizations in Gwinnett County. However, he found that it was surprisingly difficult to discover where to help out. He realized if he was struggling to find somewhere to volunteer, it must be difficult for people in need of food to find these resources too. Through the surprisingly arduous task of trying to find free food facilities in Gwinnett County, Jack came up with the idea to create Food Finder GA – originally, a web app that locates free food at food banks, soup kitchens, and co-ops.
Best AR/VR was presented to CN2 for its Assist platform. This award recognizes the most innovative use of augmented reality or virtual reality. Assist enables enterprises to offer augmented reality enhanced remote assistance to field service personnel and customers on demand.
Best Public Service/Non-Profit was presented to The American Cancer Society for its FUNdraising app. This award recognizes a mobile campaign device or service whose results had the greatest positive impact on the world. The ACS FUNdraising app allows participants of Relay for Life and Making Strides the ability to track their fundraising progress at the individual, team and event level. Consumers also have the ability to send donation solicitation messages via email, text and all the social networks in addition to being able to scan credit cards and checks from a completely PCI compliant app.
Best IoT was presented to Luma for its Surround WiFi System.  This award recognizes the most innovative use of connected wearables, hardware, beacons and more by a company that deepens customer value or improves enterprise processes. Luma solves the issue of bad internet with the delivery of a true Surround WiFi experience that included a mesh network, enterprise-level security & a sleek design.
Best B2B/Enterprise was presented to Cooleaf. This award celebrates the most innovative mobile tools to help corporations or enterprise users to work smarter and "do business better" on the move, or to reach B2B customers. Cooleaf is a technology platform customized to reflect the employer brand with the focus of creating a more connected employee community while empowering company leaders to track engagement metrics.
Best Gaming/Gamification was presented to Intercontinental Hotels Group for its Planet Trekkers app, developed by Dragon Army.  This award recognizes companies delivering the ultimate, most innovative gaming experience in Atlanta. Planet Trekkers is an app designed to give children fun and exciting ways to engage with their family's travel destination before, during and after a holiday. Created in partnership with National Geographic Kids®, the app helps young travelers explore and appreciate the world around them. The app is based on a treasure hunt style game and challenges children to discover indigenous wildlife, take part in local adventures, and taste native dishes, to truly get them excited about their holiday. It allows children to learn more about exciting adventures to experience within four categories – Natural Discoveries; Active Pursuits; Local Culture and New Flavors. The Planet Trekkers app also allows children to upload photos and details from their adventures.
People's Choice, an award given to the project that captures the most fan votes, was awarded to Moxie Sports, an app developed by stable|kernel. The sports scheduling app not only allows for coaches to set a schedule that is available to anyone following the team, but if there are changes made to the schedule, a push notification is sent out to all users – assistant coaches, players and parents. Moxie Sports started as a high school rivalry in baseball. Roman Grimaldi and Jerry Slutzky transitioned from opponents on the field, to teammates at the University of North Florida and now co-founders of Moxie Sports. Grimaldi explains that during his career, schedules were still pinned onto a board, weather was repeatedly a problematic factor that threw scheduling off, players consistently showed up late and at times he'd play in tournaments of 500+ teams that would all fall victim to the inefficiencies of updated scheduling. Whether you're a coach, athlete or parent of an athlete, you are privy to the information and updates through the Moxie Sports app. Instead of having to search through a mass of emails and text messages to find information, the app provides seamlessly available information in one singular source.
Congratulations to all the winners. We look forward to next year's awards.