Covering all of your bases legally is extremely important for any business, large or small. It only takes one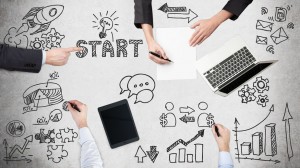 lawsuit that could have been prevented to take down companies ranging from a one-person operation to a multi-million dollar startup. These 10 legal tips should help you avoid ending up in a courtroom fighting for your business' survival.
1. Form the correct entity. – Most businesses should be operated as a limited liability company, corporation or an s-corporation . Do some research – find out which entity is right for you before putting too much time into a business.
2. Get equity agreements in writing. – Handshakes will not suffice when it comes to allocating equity in a business. It is much easier to figure out equity stakes at an early stage as opposed to when the company is bringing in significant revenue.
3. Divide up responsibilities before opening. – Each founder should know what role they are going to play on the team. These roles should be clearly communicated to all other founders.
4. Check with your local government office regarding permits and licenses. – While a missing permit or license may not shut your business down, it could create legal problems for you in the form of fines. Make sure you have all the necessary paperwork for your area.
5. Be sure your insurance is up to date. – All it takes is one accident and you could see everything you have worked for disappear in a legal battle. An online startup will not have to worry about the traditional slip-and-fall claim, but damages can occur, even on the internet, that can put you out of business without insurance. I recommend that you use an independent insurance agent who can shop your insurance policies among several different insurance carriers to ensure you get the best rate.
6. Consult with an attorney before launching your startup. – A knowledgeable attorney will help get you on the right track legally with what you need to do to protect yourselves, and your business, before you launch.
7. Have a plan to deal with those who owe your company money. – Bad debt can have a big impact on your bottom line. Knowing what to do about it before it happens can make the collections process much easier.
8. Make sure you are not infringing on existing trademarks. – A quick internet search can usually take care of this, but the cost of infringing on an existing trademark can be extremely high. Changing your company's name can cause you to lose a lot of money in administrative costs, and you will come close to starting over in terms of name recognition.
9. Have employees sign intellectual property agreements. – As you grow, you will probably need to hire employees to keep the business running. You need to ensure that all employees keep your confidential information secret and that they assign all their rights to any intellectual property they create to the company. Furthermore, for certain key employees you may wish to have employment contracts put in place. Contracts for these employees are important because labor laws are extremely complex. Drawing up your first contract is usually best left to a lawyer.
10. Set a budget for legal expenses. – Always set aside some money for legal expenses, or at least have a source of funds to draw from if you do need a lawyer. By doing this, you are protecting your business if something unexpected does occur, and as your company grows, so does the chances you will need to tap into your legal fund.
While these tips should help your business weather most legal storms, it is still important to keep up to date on paperwork, and keep in touch with a lawyer as your company grows.
Contact me at (404) 919-1957 if you are starting a new business and need legal advice.